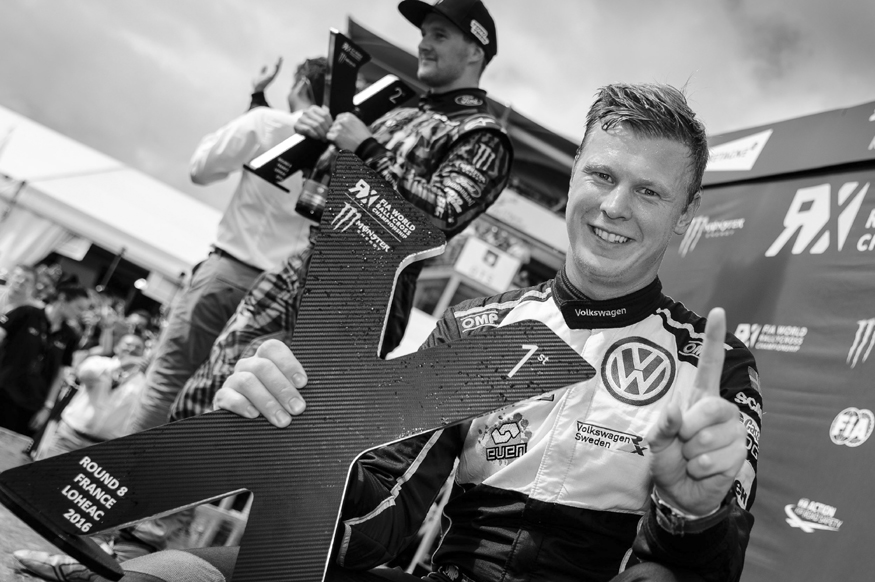 I was born and raised in a motorsport family. I followed my father to every race as a young kid. Six months young, I travelled across Europe in our family team bus.
I am a very, very, competitive person. I started my career as a cross country skier, but motorsport has always been my passion. At an early age I started to compete on my skis and enjoyed very good results – to be top ten in cross country skiing in Sweden is not bad! After tons of exercise hours and one extra year in school to have time for my sport, I graduated in 2008 and my motorsport career could take off.
My journey to finally take place in the driver's seat in a race car has been long. I began as a kid on a bicycle, then did little things like cleaning my father's race car, taking care of the tires on race weekends, driving the team truck and changing tires on the pit stops in Scandinavian touring car championship in our family team. Then it was finally my turn to tighten the seatbelt! One day before my first ever race, I did a few installation laps in a Volkswagen Golf 1.6Fsi and finished fourth. I was hooked. I had been dreaming about it and I loved it! I believe my key to success is that I pay attention to details and my competitive spirit.
I do not hate to lose, but I love to win.
Career so far
2008:
Junior Touring Car Championship
2009:
Swedish Touring Car Championship private cup
2011:
Porsche Carrera Cup Scandinavia, 2nd place
2012:
Scandinavian Touring Car Championship (STCC), winner
Porsche Carrera Cup Scandinavia, winner
Superstars International Series Italia, winner
2013:
Swedish Rallycross Championship
Porsche Carrera Cup Championship, winner
Italian Gran Turismo Championship
2014:
Swedish Rallycross Championship
2015:
FIA World Rallycross Championship, 3th place
Porsche Carrera Cup Scandinavia, winner
2016:
FIA World Rallycross Championship, 2nd place
Scandinavian Touring Car Championship (STCC), 3th place