Johan Kristoffersson is first time rallycross world champion after yet another impressive victory at World RX of Latvia. Five in a row – that's a record. Six overall this season – that's another record.
"World champion, I can hardly believe it" said Johan Kristoffersson. "This is an incredible result. Can it really be true? It feels so surreal – world champion! It hasn't sunk in yet. I've been so focused on the race itself. One corner at a time and just do my job. Just like every World RX event, this was a tough one with tricky conditions and difficult setup."
Nine months is all it took to turn a dream into reality for Johan, his team-mate Petter Solberg and all the other team members of PSRX Volkswagen Sweden. The Swedish team, based in the city of Torsby, has succeeded all expectation this season. This was Johan's fifth straight victory, his sixth this year, and the team's seventh win. That gives them two titles – both in the Drivers' Championship and the Teams' Championship – when still two rounds remain (Germany and South Africa).
"When you are on the start line, everything else around you disappear – you just look at the start lights and you don't think about anything other than taking care of the car and trying to avoid problems" explained Johan. "After three laps in the final, I had a small lead and I started to think about what could happen. I thought 'I might be world champion'… So I told myself to stop immediately and just focus and that's what I did. When I got to the last corner I shouted to the team 'Am I world champion? Did I make it? Am I world champion?' And I heard a voice over the radio 'Johan, you are world champion now'. It was an indescribable feeling to hear that. As always, we had a plan for the race and today's plan was quite special: to become world champions!"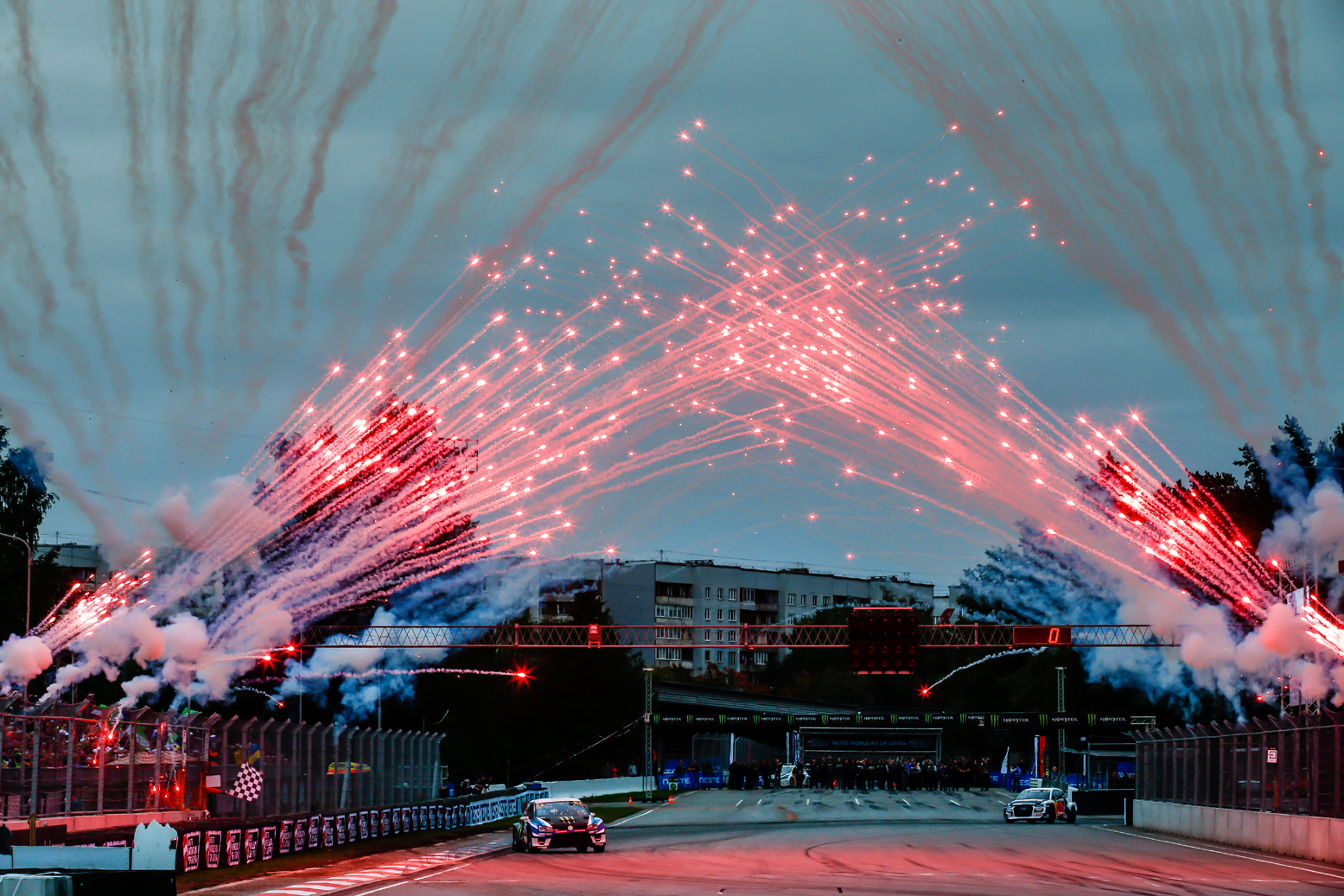 The 28-year-old Swede was obviously delighted after securing the title and hugged each and every one of the PSRX Volkswagen Sweden team members. A special hug was reserved for Petter, who crashed in the first corner in his semi-final and was taken to the hospital for a checkup.
Pernilla Solberg, PSRX Volkswagen Sweden's team manager, said:
"This year has been an adventure in every way. We created this team in January by bringing together two of the best motorsport teams in the world. I'm extremely proud of what the team has accomplished during the season and that we have secured the Team Championship with two events to go. I'm just as proud of Johan's performance in the Drivers' Championship when he takes his first title in the FIA World Rallycross Championship the same weekend… It's unbelievable. It's a dream come true."
She also added:
"We have worked perfectly as a team, everything has been so open and we have shared everything. I feel like we have made a team out of gentlemen so to speak. They made an agreement when all this began and they have both been straight forward and honest all year. Petter and I love it, he loves to compete together with Johan and we love to share the team with our new world champion!"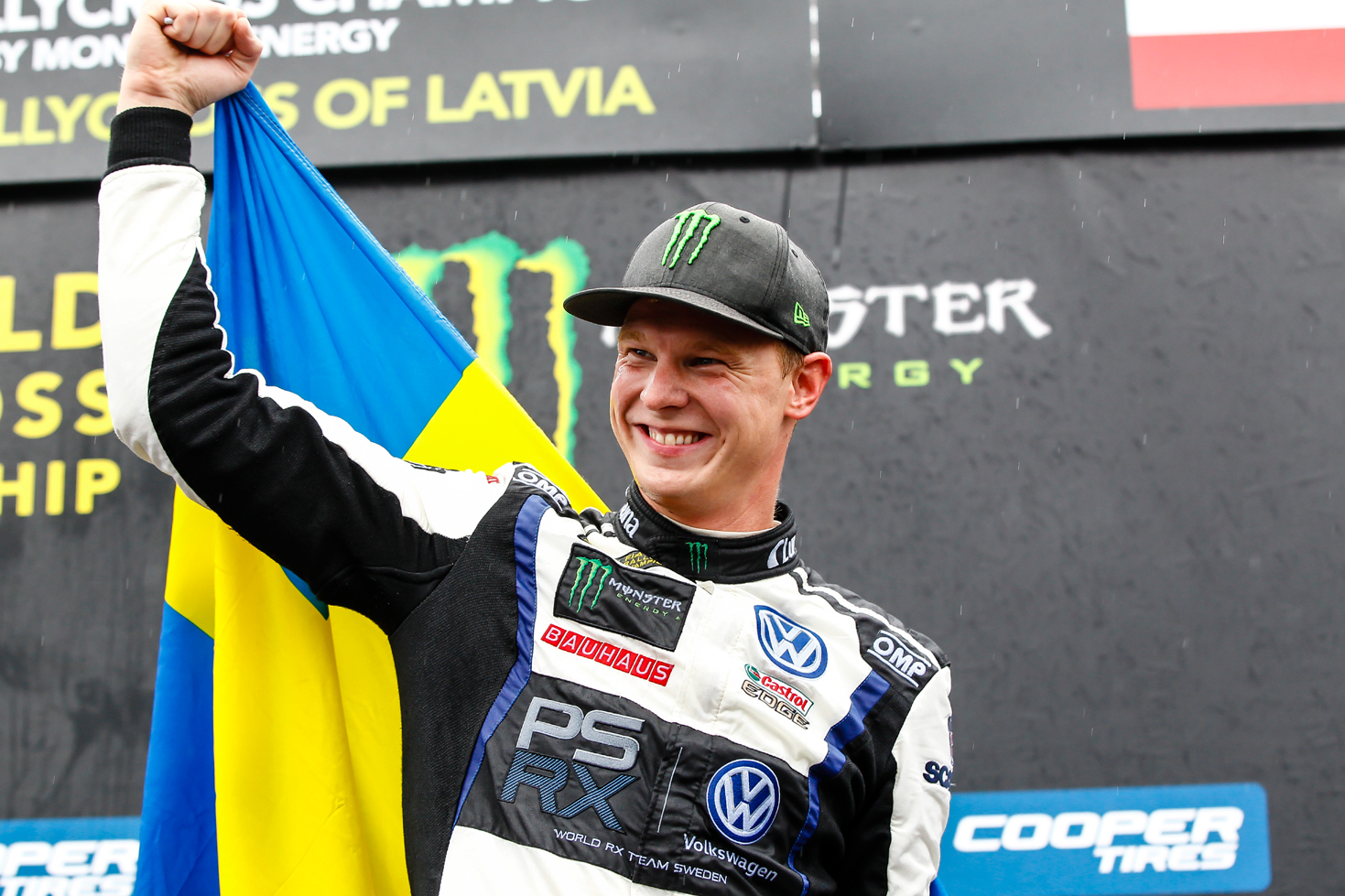 "Pernilla is completely right" said Johan. "We have been working together. We have talked about it all season and I'm sure some people are getting tired of hearing me say it, but I don't care – this is the best team in the world. The guys from Volkswagen and the guys from Torsby are fantastic and together they created this amazing car and this team. And today I used the tools they have given me to become world champion. This is a day I will never forget for the rest of my life. I'd like to thank not only the team but also my family who has helped me get to where I am today."
The 11th and penultimate round of the FIA World Rallycross Championship runs in Germany on September 29th.